Founded in 1993, Koç University has become one of the most prestigious universities in Turkey. The University attracts many of the highest achieving students from Turkey's top high schools and the majority of classes covering social sciences, humanities, engineering, law and medicine are taught in English.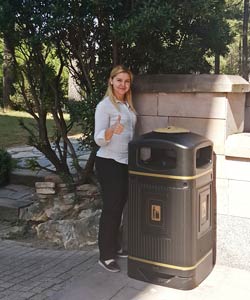 Over 5,500 students are in attendance, including some from partner academic establishments including the Universities of California, Georgetown and Cornell. Ensuring the campus is clean and attractive is paramount in creating a smart, positive impression for existing students and attracting new students. Koç University contacted the Glasdon International team in February 2018 looking for a solution to help manage litter and cigarette litter across the campus grounds. Initially interested in the Nexus® City 140 waste bins, the University selected the elegant
Glasdon Jubilee™ 110
complete with gold, hood mounted ashtrays to complement their impressive University grounds.
Explaining the customer journey, Jack Clark, Export Assistant for Glasdon International said:
"The University contacted us online, as they were seeking a variety of litter bins to be situated across the campus.
We discussed the wide range available and provided samples. Following further discussion with their Senior Procurement Specialist, they purchased a large order of Glasdon Jubilee litter bins. The bins were produced, delivered and sited in time for the new school term.
The procurement team were very pleased with our product quality and service."
The Glasdon Jubilee™ Litter Bin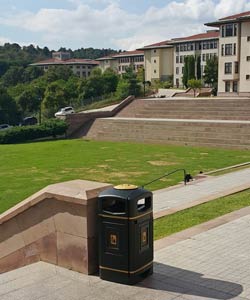 The Glasdon Jubilee bin has four open apertures. This makes it easily accessible from all directions and perfect for when busy students are disposing of their litter on the go. From an aesthetic point of view, this attractive external litter bin co-ordinates well with the University's stunning architecture. The black body with gold banding, graphics and smoking control accessories gives the bin a classic finish. The unique ribbed design on the body of the bin also deters from fly posting and graffiti. With the additional feature of a 3-point interlocking slam-shut door, the Glasdon Jubilee litter bin is also extremely secure.
Learn more about the Glasdon Jubilee™ 110 Litter Bin

If you'd like to talk to us about how the Glasdon range of outdoor litter bins can help you, please call GIL details or use the Live Chat facility on this website.