The George Best Belfast City Airport located just outside of Belfast, Northern Ireland is a hub for travel across Europe, the U.K. and Ireland. To help maintain high standards of cleanliness and increase on-the-go recycling rates, Belfast City Airport needed attractive, high-quality litter and recycling bins for their airport staff and passengers.
Litter collection outside the airport terminal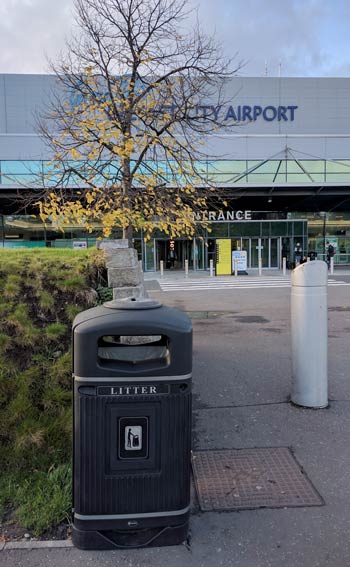 Belfast City Airport utilises a modern and attractive, stadia styling to create an inviting exterior entrance for their passengers. To keep this area clean and free from litter, outdoor litter bins were needed.
We offer a wide variety of attractive litter bins to integrate with any surroundings, so George Best City Airport were able to easily find the right litter collection solution for their premises.
The Glasdon Jubilee™ 110 Litter Bins, complete with silver graphics and banding, were selected as the ideal choice for waste collection outside the airport terminal. The traditional styling of this litter bin creates a classic and sophisticated feel, which co-ordinates perfectly with the timeless style of the George Best Belfast City Airport.
In order to successfully deal with the volume of visitors arriving at the airport, a large capacity waste solution was needed. The Glasdon Jubilee 110 litter bins can store up to 110 litres of waste, making them ideal for areas which are susceptible to a high volume of waste. Smoking is not permitted inside the airport terminal, so Belfast City Airport chose to enhance their Glasdon Jubilee bins with a hood mounted stubber plate, to provide an outdoor smoking control solution for their guests before entering.
Key features of the Glasdon Jubilee 110 Litter Bins

Four large apertures for waste disposal
Large 110-litre capacity
Hidden lift-and-lock mechanism engages in a 3-point interlocking slam-shut door
Domed hood to prevent littering on top of the bin
Variety of aperture or hood-mounted smoking control solutions
Traditional styling with silver or gold banding
Unique ribbed design deters fly-posting and graffiti
Strong, durable and weather-resistant

Find out more
Waste and recycling facilities inside the airport terminal
To help improve recycling rates and maintain high standards of cleanliness inside the terminal, a multi-stream recycling station was needed. In order to co-ordinate with the modern theme, our sleek and attractive Nexus 100 Recycling Containers were selected to form various recycling points throughout the airport terminal, both pre and post security.
With dedicated waste stream apertures and a large 100 litre capacity, the Nexus 100 recycling range enabled Belfast City Airport to combat both litter and recyclable waste within the terminal and boarding areas. Brightly coloured apertures with co-ordinating graphics help to highlight the waste stream being collected, encouraging waste segregation whilst minimising cross-contamination levels.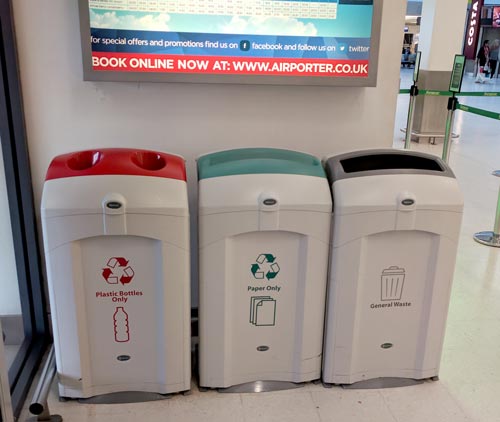 The George Best Airport decided to site their Nexus 100 recycling containers for plastic bottles, paper waste and general waste side-by-side to form an attractive recycling station. Alternatively, these containers can be sited on their own for single-stream waste collection.
Key features of the Nexus 100 Recycling Containers

Dedicated apertures for the desired waste stream
Large 100-litre capacity
Modern and stylish design with a slim footprint
Brightly coloured apertures and graphics encourage waste separation
Can be sited side-by-side to form a recycling station
Internal sack-retention system
Removable door with integrated wheels

Find out more
We were happy we could help George Best Belfast City Airport improve their waste management and recycling facilities to combat waste at their premises.
For more information on the range of waste management solutions we offer, please feel free to browse our website or contact us today via LiveChat!