Capital of the United Arab Emirates, Abu Dhabi is arguably one of the most rapidly developing, prosperous cities in the world. With warm weather all year-round, beautiful beaches and coastal views, the various ports and docking harbours across the country see both industrial and commercial activity throughout all four seasons.

Managing a total of 11 ports across the country, Abu Dhabi Ports operates all commercial, logistics, community and leisure ports including the new Musaffah Channel which links Musaffah Port to the sea. These ports support local industry, fishing and tourism and receive up to 25,000 ships per year.
Ensuring that the various docks and offices within Abu Dhabi Ports are clean and litter-free is of vital importance to maintain a professional and attractive appearance and minimise health and safety risks.
Abu Dhabi Ports were therefore in need of outdoor litter bins and with help from our distributors, they selected our Topsy Royale™ Litter Bins as the ideal choice for external waste management.
With two large apertures for waste disposal, this traditionally styled litter bin is designed to collect waste in busy areas without disrupting pedestrian flow. The 90-litre liner capacity ensures that large volumes of litter can be deposited into the waste bin, minimising the need for frequent emptying and reducing the risk of the contents overflowing.
Abu Dhabi Ports were able to personalise their Topsy Royale Litter Bins with ease using our free visualisation service. We supplied custom graphics with the company branding and message to help Abu Dhabi Ports integrate these litter bins with their surroundings.
View our guide to personalisation and branding for more information on our free visualisation service.
The Topsy Royale features integrally moulded ridged edges to deter fly posting and is supplied in black with a choice of gold or silver banding. To co-ordinate with their custom graphics, Abu Dhabi Ports selected gold as their colour choice to complete the specially designed recessed banding areas.
To help improve waste management within the offices at Abu Dhabi Ports, they also selected the Glasdon Nexus® 50 recycling containers.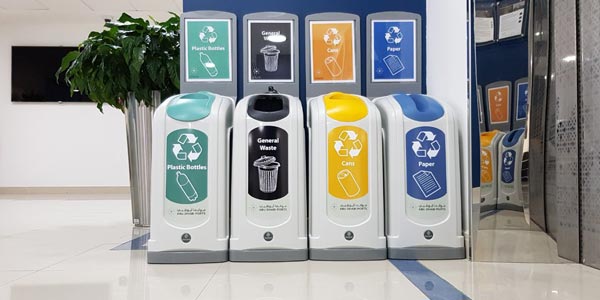 The Nexus 50 Recycling Containers feature a slim, sophisticated design with dedicated apertures and graphics for the collection of the desired waste stream. A front-opening removable door ensures ease of emptying, and the smooth surfaces enable the containers to be easily cleaned with minimal maintenance required.
Abu Dhabi Ports once again used our personalisation service to add custom graphics to their indoor recycling containers. They also chose to enhance their containers by selecting our optional A4 waste stream sign kits to increase visibility for the user and help to minimise cross contamination between waste streams.
Placed side-by-side to form a recycling station, these containers were sited within various offices and internal areas at Abu Dhabi Ports to encourage staff and guests alike to recycle their waste. Alternatively, the Nexus 50 Recycling Bins can be sited on their own under desks or desk side to provide a single-stream recycling solution.
In addition to the Nexus 50 recycling containers, Abu Dhabi Ports also selected our Nexus 30 Recycling Bins for siting in smaller offices and areas where less waste is generated.
These containers feature dedicated apertures with colour coded graphics to encourage use and increase recycling rates. With a 30-litre capacity and a small footprint, these office recycling bins are perfect for collecting waste in areas where space may be limited.
We're happy we could provide Abu Dhabi ports with a selection of Glasdon products including litter bins and recycling bins to help them improve waste management at their offices, ports and surrounding areas.
For more information on the range of waste management facilities that we offer, please feel free to browse our website or contact us today!