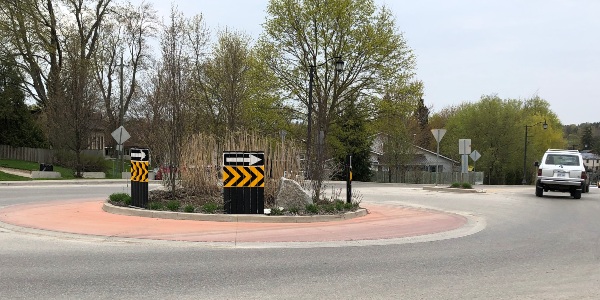 Wellington County in Ontario, Canada identified a maintenance issue with their roundabout in the Town of Elora.
Located at the junction of Victoria, McNab and Metcalfe Street, the existing roundabout chevron signs were being collided with on a monthly basis. This resulted in irreparable damage to the existing chevron signs and caused safety concerns for road users.
Couple this with the high number of collisions, it resulted in extensive regular maintenance costs for the County. Furthermore the damaged signs were not always replaced straight away due to staff and materials being committed to other emergency work.
After further research, the County found that trucks were having difficulty negotiating the roundabouts as the trailer wheels rode up over the curb. This caused permanent damage and left no reflective warning signs in place. A safety issue for any compact roundabout!.
The Chevroflex Ultra™ Sign System was selected as the solution for the roundabout, a Passive Safety system that's designed to prevent accidents.
Roads Superintendent at Wellington County, Brad Hutchinson first saw the Chevroflex Sign system at a local Ontario trade show in 2014. He was immediately impressed by its flexibility and low maintenance features.
With the aim to improve safety on the roundabout, as well as saving the County of Wellington time and money, the Chevroflex was purchased to replace the existing roundabout signs.
The sign system chosen initially was the standard Canadian pattern yellow and black chevron bend sign. This has subsequently been upgraded to the later pattern multi-chevron yellow and black roundabout sign with a one-way arrow above.
Mark England, Traffic Services Foreman for Wellington County said:
"Installing Glasdon's Chevroflex Passively Safe Sign System has transformed the way in which we maintain the Elora roundabout. It has reduced our maintenance expenditure and increased the safety of the roundabout for motorists. Furthermore this visually great product can be installed in minutes without having to take skilled labour away from other technical jobs."
Since being installed, the replacement Chevroflex has performed faultlessly and has sustained little damage, even when run over. The only ongoing maintenance needed so far has been an occasional clean.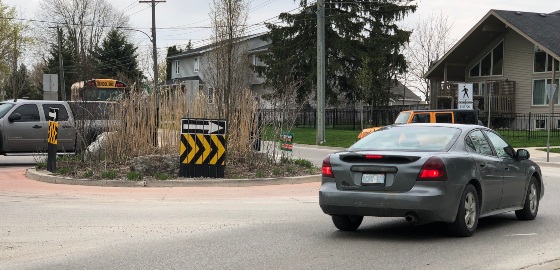 Key Features of the Chevroflex Ultra™ Sign System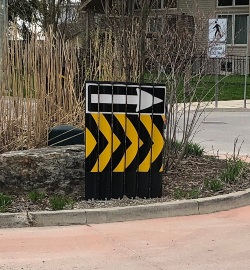 Certified passively safe to Performance Standard NE3/100.

Highly visible wall effect - offers a clear indication ahead of a bend or hazard in the road.

Available in three sizes - 400mm, 600mm or 800mm.

Modular socket design allows for unlimited number of Chevrons.

Available with or without high-visibility border.



Find out more
If you would like to talk about improvements to your road scheme, please feel free to browse our Highway Safety products or contact us today via LiveChat!