Ishida Co Ltd is a world leader in the manufacture of weighing and packaging equipment, mainly centred on the food industry. The business was founded in Japan in 1893 and is still owned and operated by the Ishida family.
Ishida expanded into Europe in 1985, opening a purpose-built headquarters in Birmingham, England. With a secondary manufacturing facility in Poole, England. Ishida Europe now has sales and service subsidiaries in 9 countries.
Following a recent expansion at their Birmingham facility, Ishida Europe looked to implement a recycling program for the newly opened training academy. Our sister company Glasdon UK Limited met with Ishida facilities staff and demonstrated our full range of innovative indoor recycling solutions.

Ishida Europe chose the Nexus® 100 Recycling Bin. With a 100 litre capacity and small footprint, Nexus® 100 is the ideal office recycling container. The units can be installed in banks against a wall to collect multiple waste streams without taking up precious space.
Nexus® 100 Recycling Bins are extremely versatile. With a choice of aperture styles and co-ordinating graphics colours, Nexus 100 can be specified for almost any recyclable material you wish to collect; Ishida Europe chose Confidential Paper, Plastic Bottles, General Waste and Cups.
Since the initial rollout at the training academy, Ishida Europe have extended the new recycling program across their Birmingham head office. The bins look great and have further improved the company's sustainability.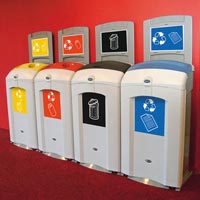 Clear and noticeable graphics
Removable door system
Large open aperture
Wheel feature for heavy loads
If you'd like to learn more about our indoor recycling units, we'd love to hear from you. Contact us, or use the Live Chat feature on this website.