Glasdon launches the latest environmentally conscious contemporary seat.
Designed to coordinate with modern architectural environments, the Vistra™ Seat is a robust, cost-effective, and low-maintenance solution for public seating. Available with a selection of environmentally friendly recycled material slats and Armortec™ coated cast aluminium ends, the seat arrives fully assembled, ready for immediate installation.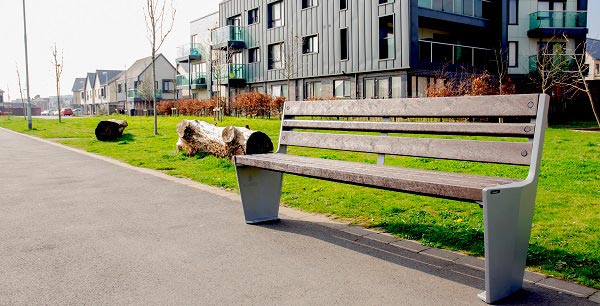 Environmentally Friendly Design
Manufactured using recycled material slats, the Vistra Seat is an environmentally friendly seating option. Offering a choice between Enviropol™ and Timberpol™, both materials contain a large proportion of recycled materials and come with a host of other benefits.
First introduced by Glasdon in 1993, Enviropol material predominantly contains post-consumer and industrial polythene. Due to the significant advances in the control and separation of waste, Glasdon maintains strict controls over the recycled waste materials used to produce Enviropol to ensure that they only use those with the required physical properties to manufacture premium recycled content.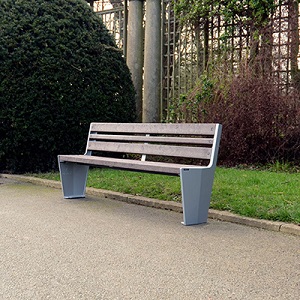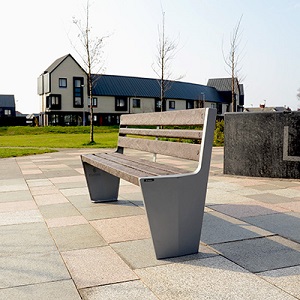 Containing 98% recycled content, Enviropol is strong, weather-resistant and ensures a long, virtually maintenance-free service life. Resistant to chemical attack and impervious to water, frost, and most corrosive substances, Enviropol is an ideal alternative to virgin materials and is 100% recyclable at the end of its service life.
Enviropol slats are available in black or brown.
Made from 95% recycled and sustainably sourced raw materials, Timberpol is a wood/polymer composite containing 55% wood (reclaimed sawdust) and 40% polymer (post-consumer HDPE).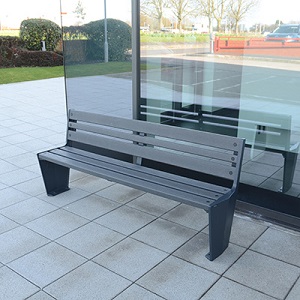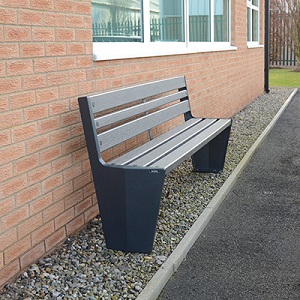 Designed to have a wood-like appearance, Timberpol doesn't splinter and is knot-free. Timberpol will also never require painting or varnishing.
Timberpol slats are available in dark grey or light brown.
Durable and Long-Lasting
Designed to be durable and long-lasting, the Vistra Seat utilises a steel support frame and rigid construction to provide overall strength, reduced likelihood of bowing and protection against vandalism. An Armortec coating finish on the cast aluminium seat ends limits the impact of scratches while offering a long-lasting corrosion and weather-resistant seating solution with minimal maintenance requirements.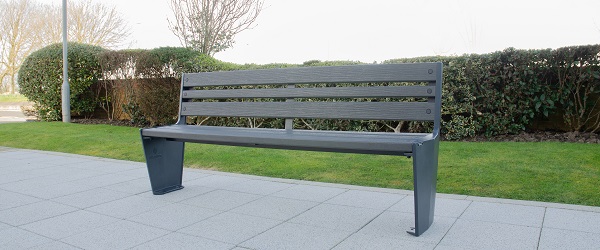 The seat also features plastic anti-vandal cover caps to protect it from vandalism and comes with concrete surface fixing bolts as standard.
Personalisation
As with most Glasdon street furniture, the Vistra Seat allows for personalisation, offering the option to incorporate a laser-etched commemorative plaque if required. Laser etching offers greater flexibility for messages and can even incorporate small and simple graphics.

Key Features and Benefits
Modern and Contemporary Styling – a simple design with clean lines to coordinate with contemporary architectural environments.
Large Selection of Slats and Seat End Finish Options – allows flexibility when choosing seat appearance and offers several choices regarding appearance.
Range of Recycled Material Slats Available – an environmentally friendly and sturdy seating option.
Armortec Coated Aluminium Seat Ends – protect the seat ends from corrosion and reduces maintenance requirements.
Armortec Coated Steel Support Frame and Stainless-Steel Fixings – offer protection from vandalism and ensure a long service life. All parts are weather and corrosion resistant and lower maintenance requirements.
Recyclability – the Vistra Seat is fully recyclable at the end of its service life.
Cost-Effective Polymer/Metal Seat – a robust and sturdy design that requires minimal maintenance.
Plastic Anti-Vandal Cover Caps – protect against vandalism.
Talk to us today to discuss your seating requirements. Alternatively, view the full recycled material seating range.
Wednesday, September 14, 2022