General Electric Company (GEC) is a multinational conglomerate that manufactures products for the generation and distribution of electricity. The company operates through various industry segments including power & water, oil & gas, aviation and healthcare and has recently re-located its headquarters to Boston, Massachusetts.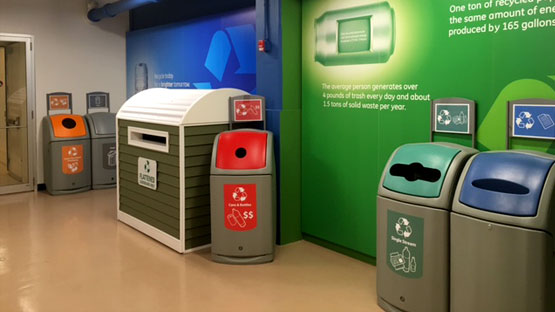 Nexus™ 140 Recycling Bins in GE Exhibition
After much consideration, GEC selected our popular Nexus™ 140 recycling Bins in five different waste streams in order to provide the necessary receptacles to improve their recycling rates. GEC were able to personalise one of their recycling containers with a non-standard stream – Loose Styrofoam® packaging – which was a great opportunity to start recycling such a common material found in their workplace environment. Custom graphics were also added to their cans and bottles recycling container to indicate their ongoing redemption recycling scheme.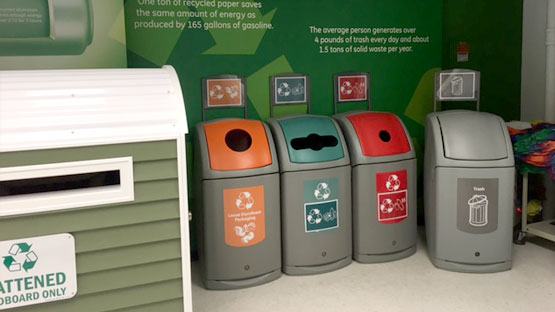 Nexus™ 140 Recycling Containers in GE Exhibition
We were pleased to collaborate with such a successful multinational to help improve their recycling rates & hope to deal with them again soon.
Design features of the Nexus™ 140 Recycling Bins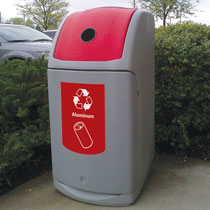 Features a large capacity
Constructed from Durapol™ - a hard-wearing polymer
Removable door for ease of emptying
Great for communal areas
Ideal for both indoor and outdoor application
If you'd like to learn more about our indoor recycling bins, we'd love to hear from you.
Email us gil@glasdon.com
Use our live chat facility on our website
Give us a call +44 1253 600435