Pulkovo Airport is in St. Petersburg and is managed by the Northern Capital Gateway. This has become one of the first airports in Russia whose goals are to help reduce the negative effect of waste to landfill.
Ms Mukhametshina the environmental manager for Pulkovo Airport required a recycling scheme that would be appealing & practical to put into place. The bright coloured apertures and attractive personalised recycling stickers make recycling easy for the public regardless of language whilst the wheeled door feature makes removing waste easy, quick and safe for service staff.
Another concern was accidental leakage from unfinished cans/bottles, which had been a problem the airport faced in the past. As standard the Nexus® 100 comes with a drip tray that will collect any waste liquid. The tray can be easily removed for emptying and cleaning and removes any slip hazards found in less developed recycling schemes.
Over 200 bins for general waste, paper and cans/bottles collection have been supplied to Terminal 1 of the airport to encourage successful recycling. Glasdon International are sure the Nexus® 100 range will get this project off the ground for the prestigious Russian airport.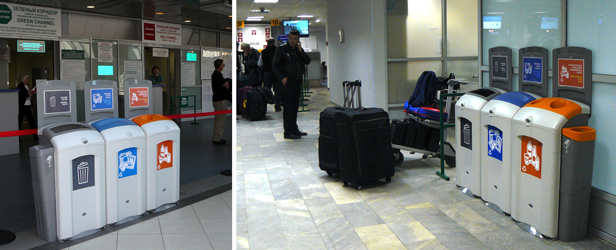 Saturday, October 12, 2013