Not only can we help you choose the right litter bins for your forecourt, we can also advise you on any additional products you might need to ensure your petrol station is appropriately equipped for maximum customer retention.
To help you choose the most suitable products for your petrol forecourt unit, we answered your most frequently asked questions: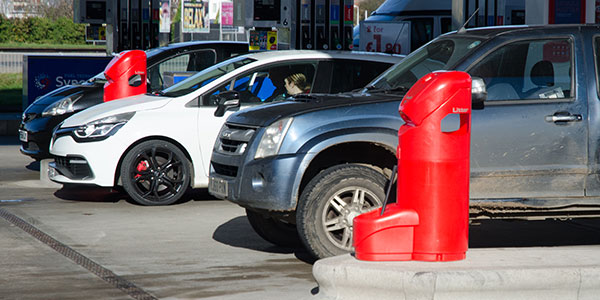 What kind of products should I place by the petrol pumps?
The space available at the petrol islands may be limited, but your customers will typically spend most of their time by the pumps, so a multi-purpose solution such as the Auto-Mate™ Petrol Forecourt Bin is recommended.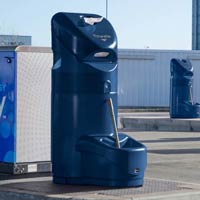 For improved customer safety and comfort, the Auto-Mate Petrol Forecourt Bin features a dispenser for standard-sized gloves and towels, as well as two large litter apertures to fill its 85 litre capacity.
A study by Balvor LLC* found that 76% of women and 58% of men would tell their friends and colleagues about petrol stations that provide the use of gloves to customers, and so offering this multi-purpose litter bin could help to further populate your petrol forecourt. The Auto-Mate petrol forecourt bin is also supplied with one pack of both the industry standard-sized disposable gloves and towels for increased convenience and refills are available.
It is also a good idea to place outdoor litter bins by the air and water pumps. A container such as the Super Guppy™ Litter Bin is a popular choice. Available in a variety of colours, the Super Guppy can easily co-ordinate with your forecourt branding. This bin could also be placed near to an ATM machine, a store entrance or in an outdoor seating area if your petrol station has one.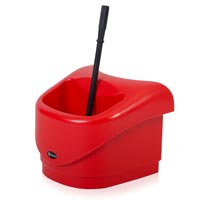 Having a clean windscreen is important for car owners in order to maximise visibility when driving. Go the extra mile and provide additional services for your customers by offering facilities such as the Screen Clean Station™ Forecourt Bin Attachment.
The Screen Clean Station attachment can be easily fitted to both your Auto-Mate and Super Guppy litter bins. This small, space saving unit, complete with a squeegee and an 8 litre water reservoir, allows your customers to clean their car windscreen before setting off. By siting the Screen Clean Station forecourt bin attachment in your petrol station, you will be providing an extra service to your customers, which in turn can help to increase customer retention.
Find out more on how to keep your petrol station customers happy.
Which outdoor products do I need to boost sales at my petrol forecourt?
To increase the success of your petrol station, it is important to draw people in to purchase other products as well as fuel.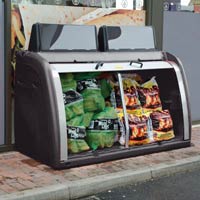 Make your products more appealing and eye-catching to customers by siting a storage unit outside the entrance to your petrol convenience store.
The Orion™ Storage Unit is a great addition, which can be easily sited against a wall without obstructing the cashier's view of the forecourt. The large display area allows easy access to goods, encouraging customers to make point-of-sale purchases.
The Orion also offers room for personalisation with your company branding, as well as optional promotional display points.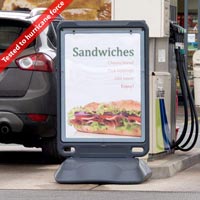 You can also promote your forecourt products or services using a sign such as the Advocate™ Floor Standing Poster Display Sign. This is a display unit that has been specially designed to promote awareness and boost sales. Thanks to its corrosion-resistant Durapol™ exterior and robust design, Advocate can withstand all weather types, including hurricane-force winds.
Place your Advocate outside your petrol forecourt store to advertise your latest promotions. You can opt for either a single or double-sided sign for maximum impact.
The Advocate is also available in a wall mounted variation, in order to cater to all your forecourt needs.
Which products should I place inside my petrol station store?
Once inside your petrol station store, you will likely want to persuade your customers to make additional purchases before paying for their fuel. What better way to do this than to encourage them to take a basket when browsing your products?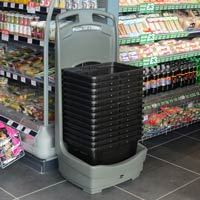 The Mobile Basket Buddy™ Storage Unit can be conveniently sited at your petrol forecourt entrance, to encourage entering customers to grab a basket on their way in. Designed for optimum stability whilst taking up minimal space, the Mobile Basket Buddy can easily be wheeled around your forecourt, and can be sited back-to-back with another unit.
Keep your Mobile Basket Buddy in visible view of entering customers to tempt them to pick up a basket and subsequently pick up more items before heading to the counter to pay.
It may also be a good idea to site a small indoor litter bin within your convenience store such as the Envoy™ Litter Bin. The D-shaped design of this litter bin makes it suitable for siting against a wall, counter or even a drinks machine, in order to take up minimal space.
Do I need to offer battery recycling bins at my petrol forecourt?
It is a legal requirement** to offer free collection of used batteries if you sell or supply portable batteries amounting to 32 kg or more each year (the equivalent of 4 AA batteries per day). Therefore, if your petrol station falls under this category, it is essential that you provide battery recycling bins in your store.
Our range of C-Thru™ Battery Recycling Bins with recognisable graphics come in varying sizes, ranging from a 5 litre unit suitable for countertops up to a 30 litre recycling bin.
The transparent exterior of this range prevents cross-contamination by allowing the contents to be easily seen. This makes our C-Thru battery recycling bins the ideal, single waste stream solution.
Place your battery recycling bins in high traffic areas of your store such as the cashier desk, in order to prompt your customers into depositing their used batteries to be recycled.
For more information on how to cater for all your petrol forecourt needs, please feel free to browse our specifically chosen products for petrol stations or contact us today:
Email us gil@glasdon.com
Call us on +44 1253 600435
Live chat with us on our website
Sources:
*https://www.u-glove.com/docs/NACS-February-2015.pdf
**https://www.gov.uk/battery-waste-supplier-reponsibilities
Thursday, January 4, 2018