Since 2011, the Swallows has supported over 3000 patients and caregivers across the Blackpool area.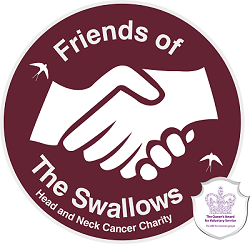 Set up by cancer patients to help and support fellow sufferers and their carers, The Swallows is a Fylde Coast Head and Neck Cancer Support Group.
Dedicated to providing 24/7 support and 3rd party referrals, if necessary, the charity prides itself on providing support by people who understand the issues faced.*
The Swallows collaborates with Blackpool Victoria Hospital to support all head and neck cancer patients and their carers throughout and after treatment.
After receiving a grant request from The Swallows, the DJ Sidebottom / Glasdon Charitable Programme are pleased to announce a £2000 donation to enable the charity to continue its amazing work.
The donation will help support the costs of running monthly meetings, including venue hire and tea and coffee supplies.
Chris Curtis, Chief Executive Officer of The Swallows, said:
"This service is a valuable benefit to the hospital, and they refer all the patients going through treatment to attend. The meetings are a safe place for people to talk openly, and no question is too small or big."
If you are a charity or community-based organisation and would like to learn more about the funding opportunities available through the Glasdon charitable giving initiatives, please visit the DJ Sidebottom / Glasdon Charitable Programme grants page.
References
*https://www.macmillan.org.uk/in-your-area/local-dashboard/detail/Practical%20help%20and%20support%20groups/6651/The-Swallows-Head---Neck-Cancer-Support-Group
Tuesday, February 22, 2022