In what can only be described as one of the most scrumptiously worthwhile fundraising days in Glasdon history... staff from across the Blackpool based headquarters, pulled on their pinnies and pulled out their purses (and wallets) for the Alzheimer's Society Cup Cake Day on Thursday 16th June.
The Alzheimer's Society is the UK's leading dementia support and research charity. There are 850,000 people living with dementia in the UK and the number is set to rise to 1 million in the next 5 years.*
Cup Cake Day was whisked up by Alzheimer's Society to help raise funds for people affected by dementia.
Just £40 raised during the day could pay for a person living with dementia to attend one of the Alzheimer's Society dementia cafes for two months.
In support of this fantastic cause and the real impact the donations would have on peoples' lives, it didn't take much to get the troops involved in their own bake-offs in the days leading up to the big event.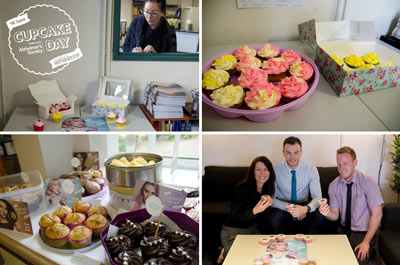 And the spread didn't disappoint! Scrummy, yummy cakes and treats of all delightful combinations, shapes and sizes were on display to tempt and entice even the most committed dieter.
Glasdon colleagues baked, bought and ate their way to raising £211.75 which was then topped up to the event total of £450 by the Glasdon Charitable Giving Committee.
A huge thank you to everyone who took part and there's still plenty of time to perfect your buttercream frosting ready for #Cupcakeday 2017!
*The Alzheimer's Society