Glasdon staff didn't want to give each other Christmas Cards this year. What? No cards?! No.
However, the teams from across Glasdon sites in Blackpool and Poulton-le-Fylde did choose to donate the money they usually spend on Christmas Cards to a local charity instead.
And as staff made their donations, they had the opportunity to nominate a local charity to be entered into a draw to become the recipient of all funds raised.
Sharon Marshall of Glasdon said:
"This has become a tradition for us now here and it's one that started out as a staff suggestion, which makes it even better.
"And Trinity Hospice & Palliative Care Services were chosen in the draw as this year's recipients."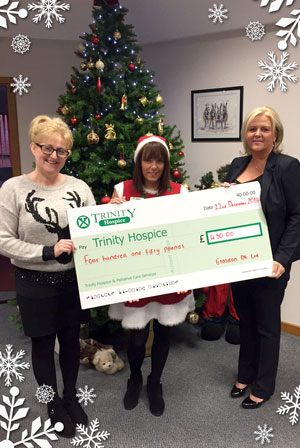 Trinity Hospice, based in Blackpool, is an independent charity providing specialist palliative care and support for individuals and families from across the Fylde Coast.
Focused on improving the quality of life for people with terminal illnesses, Trinity's services are completely free as long as they are needed for.
In 2015/16, Trinity's services cost £7million to run and £5million of that came from voluntary donations generated right here in the local community.
Every contribution really does help keep the Fylde Coast's hospice open.
Glasdon staff raised a fantastic £213.89 and the Glasdon Charitable Giving Committee matched their efforts bringing the total donation to £450.
Photograph: (L-R) Sister Deborah Wood and Staff Nurse Vicky Rashid accepting the cheque off Sharon Marshall, at Trinity Hospice.
Find out more about the work of Trinity Hospice and ways to donate via their website: http://www.trinityhospice.co.uk/
Thursday, December 22, 2016