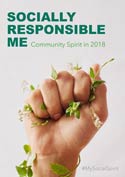 Download our latest eBook which offers tips and advice on how you can make small changes in every aspect of your life, that will make a big impact for our generations to come.
How does your social spirit impact the environment?
What steps do you take to improve the environment?
Join in the conversation by using the hashtag:#MySocialSpirit

When it comes to 'Social Responsibility'...
... thoughts will usually turn to businesses and how they must work ethically with sustainability in mind.
However, Social Responsibility doesn't just begin and end in business. It is the job of each and every one of us to look at our own 'Social Spirit' and understand the impact we can have on the environment.
What Can #MySocialSpirit Encompass?

Whether you're at home with the family, at work in the office or out and about in your local community there are many ways that your social spirit can spring into action to help create a more environmentally friendly world.
Download the eBook and find out more about how you can play your part at home, on-the-go, at work and in the community.