Cyclist Dillon Byrne, sponsored by Glasdon UK Limited recalls his latest experiences. July was tough, at the start of the month I suffered badly with two spider bites. Both my leg and my arm were badly swollen, making it very painful to race. I tried to do a pro kermesse just before coming home to the UK for one week, it went fairly well as the swelling in my leg had more or less gone down completely. At this point my arm was only just starting to swell, so I thought I might be able to compete in one race before travelling back home. It was a very hot day (38oC) making the race even harder. I was taking a bottle every lap, sometimes 2 but I was feeling good. Coming up to the last 20k of the race I started to notice my arm feeling heavy and all the bumps and ridges of the Belgian roads were making it ache. I looked down to see both my arm and hand were incredibly swollen, like a balloon! I pulled out of the race straight away.
After the race I travelled back home and in the space of a few days my arm was making good progress, the swelling going down gradually. Once home, I went straight into training mode. In preparation for some really big races coming up with the team for the rest of the season. It was also good to see my family, girlfriend, friends, and my gorgeous nephew who had been born whilst I was in Belgium.
My girlfriend came back to Belgium with me for a few days off work, and to watch me in a race. She had no idea that she was about to experience her first ambulance trip.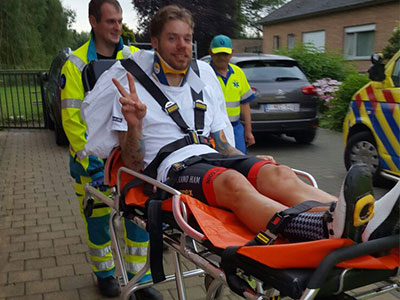 Unfortunately I crashed very hard in the last lap, coming into the finish of a race. There was nowhere to go as I was on the inside of the bunch. All of a sudden the rider inside of me slammed on the brakes from full speed and I was left with a last minute choice; go into the back of the rider and cause a pile up or to try to bunny hop up the curb to avoid crash. I tried the bunny hop and it didn't work out. My front wheel didn't clear the curb. I went down hard, the paramedics helped me back up and into the ambulance. My initial reaction was to ask if my teeth were ok, luckily they were, however they had gone through my lip and cut the inside of my mouth. This has made drinking and eating a very painful process. I have a broken nose, which needs to be re broken back into place at a later date and I also had mild concussion as well as lots of road rash. The last few days I have felt like I've been hit by a car. Needless to say this wasn't very pleasant for my girlfriend to see, but I'm glad she was there, as well as some Belgian friends (Ingrid and Rudy) who came to the hospital with me.
Now I'm currently waiting on a new bike, as both my race bike and spare bike are now snapped. But it is a good excuse to make myself rest.
So that was July, a challenging month, I am looking forward to what August brings.

Monday, September 12, 2016