August was not a good month for me, and definitely one to forget. I have done so much racing up to now that I've just become constantly tired.
To make it worse I have had even more bites causing another swollen leg and I even got bitten on my eye! Causing that to swell up for two days leaving me blind in one eye.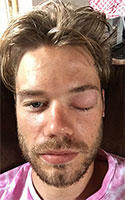 My last race was definitely one to forget, a pro kermesse. It was really fast pace. There was a point where I was moving up the outside of the bunch and a rider in front of me hopped onto the cycle path. I thought that it looked like an easy way to move to the front of the bunch, so I followed.
The cycle path was a coming up to a blind corner and we were riding along it at full speed. All of a sudden a moped was driving along the cycle path towards us. Unfortunately for me I didn't see it until it was too late, I went straight into the moped head on. As a result I then spent a few minutes by the side of the road untangling my chain. Then I had to catch up with the bunch, draining my energy even more.
I then had a front wheel puncture so had to stop again and change my front wheel. Once I got back on I was well and truly exhausted and a split had been made, meaning my race was almost over.
So to sum up, August was a bad month for me.

Friday, September 16, 2016