The charitable trust created in memory of a young and talented cyclist has received a massive funding boost, thanks to donations from fellow cyclists and sponsors of a re-launched cycle race series in his name.
Launched in March and under a newly formed organisation to make it happen, the new Lewis Balyckyi Crits Series at the UCLan Sports Arena in Preston was named after the young cyclist who tragically lost his life in a road accident during a training ride in January 2011.
This year's Lewis Balyckyi Crit Series, sponsored by Glasdon, attracted over 100 riders, cycling in 18 rounds of races which concluded on 28 July. All profits from rider entry fees and sponsorship have been donated to the trust fund created by Lewis's parents.
Jerrod Hartley, League Secretary of the new Crit Series explained:
"I had the privilege of knowing and cycling with Lewis at the Arena. We've been organising charity cycles for the last 5 years, but we just wanted to do more for the Trust and create something that was here to stay.
"The original race series finished in 2014, after 20 years, so we were determined to bring it back for Lewis. With Glasdon on board helping us cover the running costs, we could then focus on the fundraising by providing more youth and senior riders with the opportunity to compete on what is undoubtedly one of the best closed circuits in the country."
At the time of Lewis's tragic accident he was just days away from a move to France to join a team and fulfil his dream of becoming a professional racing cyclist.
The Lewis Balyckyi Trust Fund was founded by Kevin and Jacqui Balyckyi as a lasting tribute to Lewis (pictured below), his passion and commitment to his sport and determination to succeed.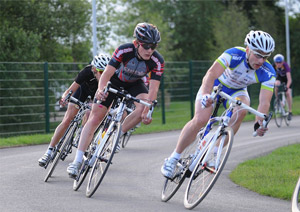 And now the charity honour this by raising money to provide an annual grant for young cyclists who share Lewis's dream, but may not otherwise have the opportunity to train and race in Europe.
Lewis's Dad, Kevin Balyckyi said:
"Lewis started his cycling career at the Preston Sports Arena and won his National Championship jersey there in 2008, he would have been so proud, as are we, to see the new series brought back to the track and in his name."
The total amount raised for the Trust through the Lewis Balyckyi Crit Series, raffle and individual donations totalled a massive £6,000.
Kevin added: "I can't say thank you enough to the organisers, sponsors, all supporters and of course the riders. This is additional funding that we wouldn't have had without the Crits. It will enable us to provide grants for two more young cyclists next year supporting them to achieve their dreams."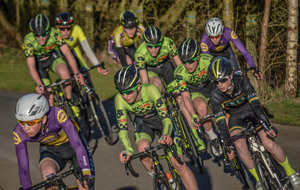 Photograph of young cyclists racing in the Lewis Balyckyi Crits Series. Courtesy of Ellen Isherwood.
In 2016 the charity has supported 4 young riders from across the country providing them with the funds to cover their accommodation costs, which is often one of the barriers for young cyclists starting out.
The trust also work with local schools, police and supporting organisations to help raise awareness of cycle and road safety among young people through the Look For Lewis Campaign.
Presenting the final cheque, Philip Greenwood, Managing Director of Glasdon said:
"We were delighted to support the Trust in this way, where the outcomes of such a successful event touch and benefit so many people including the young beneficiaries of the funds raised."
Details of the Lewis Balyckyi Crit Series 2017 will be announced in the new year. For more information and to view this year's results visit http://balyckyicrits.org.uk
Photograph: Philip Greenwood, Managing Director of Glasdon presents the final cheque to Kevin Balyckyi with Joy Kavanagh, Glasdon Director and Crits Series organiser Jerrod Hartley.

Tuesday, November 29, 2016