Jason Walker, Glasdon Area Sales Manager, is no stranger to putting his mettle to the test.
In 2011, Jason's competitive streak took him off to Argentina where he was one of only 160 participants to compete in the UK version of the TV gameshow 'Winter Wipeout' and in 30 degree heat!

Following his clash with the much revered and feared 'Wipeout' course he caught the running bug and began raising money for charity by completing 10k, half and full marathon runs around the UK.
Finally in January 2016, Jason secured a charity place in the Virgin London Marathon on Sunday 24th April 2016.
And the Glasdon Charitable Giving Committee were proud to support Jason in his marathon efforts with a donation to his nominated charity the English Federation of Disability Sport.
Jason said:
"I was so excited to finally secure a place in the London Marathon. Having run the Yorkshire Marathon last October, coming in at 5 hours 19 minutes and 18 seconds, I knew I had a long road ahead as this was going to be a different class."
Sunday 24th April 2016 arrived and Jason described the experience of starting alongside 40,000 other runners at the Greenwich starting line as 'electric'.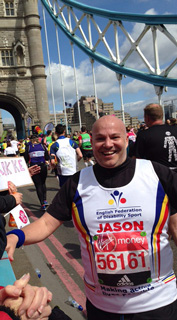 He explained:
"I felt great as I hit the start line after a 40 minute walk through the crowds. I hit start on my watch and powered the little legs."
He got the first glimpse of his wife, children and parents after 5 miles at Woolwich Docks recalling:
"They then called to say they were at the 9 mile mark, but they had underestimated my bionic speed as I was already at 10.5 mile. Running over Tower Bridge was awesome and I grabbed the opportunity for a quick photo.
Canary Wharf beckoned and again I got cuddles and encouragement from the family at 18mile. I just held the tears back!"
The 25 mile mark brought the runners onto the Embankment, running along the Thames with views of the London Eye, before a sweeping turn past Big Ben.
Into the last mile, Jason upped the pace.
He said:
"I turned at Buckingham Palace, and once again gave high 5's to my Walker clan, but this time with the water works turned on!
"With cheers and strangers shouting my name I hit The Mall and sprinted to the finish where I was presented with my medal, then I cried like a baby! The emotions were crazy, but fully deserved after an astonishing achievement."
Finish time... 5:06.48!!

"I am so proud of myself, might even enter again!!!!!"