Organisers and sponsors of the Lewis Balyckyi Crits Series are celebrating for the second year running as the total of the funds raised for a special charitable trust is announced.
Successfully relaunched last year, this year's cycle race series, sponsored by Glasdon and promoted by ID:FS at UCLan Sports Arena in Preston, attracted even more cyclists and support for the charitable trust created in memory of Lewis Balyckyi.
The Lewis Balyckyi Trust Fund was founded by Kevin and Jacqui Balyckyi as a lasting tribute to their son Lewis (pictured below) who tragically lost his life in a road accident during a training ride in January 2011.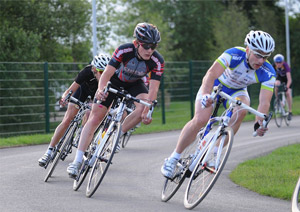 Lewis was a young, talented cyclist who at the time of the accident was just days away from a move to France to join a team and fulfil his dream of becoming a professional racing cyclist.
The Crit Series, which is organised by some of Lewis' fellow cyclists, was relaunched in his name to help raise funds for Trust.
The Trust Fund provides help and opportunities for other young cyclists who share Lewis's dream to train and race in Europe.
Over the last two years, the charity has supported 10 young cyclists from across the country providing them with the funds to cover their accommodation costs, which is often one of the barriers for young cyclists starting out.
Announcing the final total, Jerrod Hartley, League Secretary of the Crits Series said:
"It's with huge thanks to the growing numbers of participants and the continued support from event sponsors that this year's Lewis Balyckyi Crits Series has raised a fantastic £8,000 for Lewis's Trust."
Receiving the final cheque on behalf of the charity, Lewis's Dad, Kevin Balyckyi said:
"I can't say thank you enough to the organisers, sponsors, all supporters and of course the riders. This is additional funding that we wouldn't have had without the Crits. It will enable us to provide grants for even more young cyclists next year supporting them to achieve their dreams."
Details of the Lewis Balyckyi Crit Series 2018 will be announced in the new year. For more information and to view this year's results visit www.balyckyicrits.org.uk
Photograph: Philip Greenwood, Managing Director of Glasdon presents the final cheque to Kevin Balyckyi with Joy Kavanagh, Glasdon Director and Crits Series organiser Jerrod Hartley.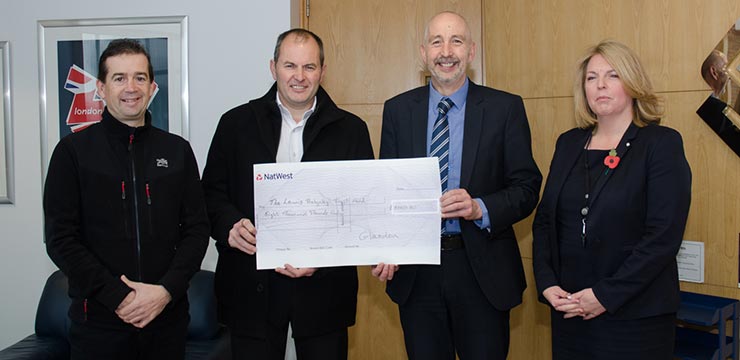 Thursday, November 23, 2017