Following the success of the first Lewis Balyckyi Crit Series in 2016, the North West's newest cycle racing event is set to return to the UCLan Sports Arena in Preston this March.
Last year's series, sponsored by Glasdon, attracted over 100 junior and senior competitors and raised £6,000 for the Lewis Balyckyi Trust Fund.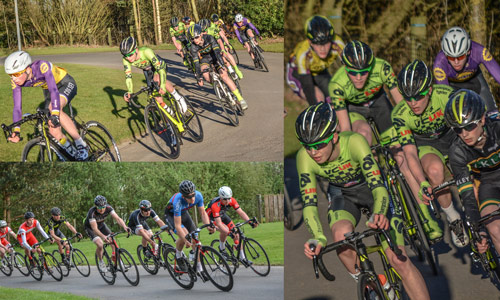 The 18 week crit series was re-launched in 2016 to raise money for the Trust Fund founded by the parents of Lewis Balyckyi, a talented young cyclist who tragically lost his life in a road accident during a training ride in January 2011.
Pictured right: Junior and Senior Riders in the 2016 Crits. Courtesy of Ellen Isherwood.
Jerrod Hartley, League Secretary of the new Crit Series explained:
"I had the privilege of knowing and cycling with Lewis at the Arena. We'd been organising smaller charity cycles, but we just wanted to do more for the Trust and create something that was here to stay.
"The original race series finished in 2014, after 20 years, so we were determined to bring it back for Lewis. With the support from our sponsors covering the running costs, we could then focus on the fundraising by providing more junior and senior riders with the opportunity to compete on what is undoubtedly one of the best closed circuits in the country."
Blackpool based manufacturer, Glasdon, have confirmed their continued support as the headline sponsor of the event.
Philip Greenwood, Managing Director of Glasdon said:
"We are delighted to be the headline sponsor again and proud to support the development and growth of such a unique community sporting event in the North West.
"All profits from the riders' entry fees and sponsorship from event partners helps the Lewis Balyckyi Trust Fund provide support for young budding professional cyclists and raise awareness of cycle and road safety."
The 2nd Crits Series circuit at the UCLan Sports Arena is 1.6km long, taking riders over a small bridge and through various sweeping bends before heading up a gentle rise to the finish line.
The series is set to launch with Round 1 on 30th March through to Round 18 and the series finale on 27th July.
All riders are required to register once for a fee of £5 on the night of their first race. Each race is then £12 thereafter with discounts for juniors and students.
For more information and racing schedules please visit: http://balyckyicrits.org.uk/