Established 4 years ago, the Blackpool Boccia Club has continued to grow from strength to strength.

So much so that the club are keen to welcome more members to their weekly Tuesday afternoon meet at Blackpool's Stanley Park Sports Centre.
They approached Glasdon with a request for help by way of a donation that would enable them to attract new players, who may also have more severe disabilities.
Boccia is practiced in over 50 countries and has been an established Paralympic sport since 1984. Players compete in two teams as individuals, pairs or teams of three.*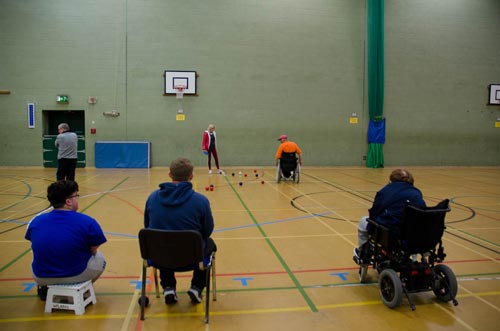 Blackpool Boccia Club play in the National Pan Disability League. They now have 14 regular members with 8 members who play in competitions.
In January, the club achieved the runner up position in the Merseyside Open Team Championships which had attracted 32 competing teams.
The aim of Boccia is to score the highest points by propelling your team's balls as close to the target ball as possible. Balls can be thrown, rolled or kicked. If players are unable to kick or throw the ball a ramp can be used to roll the ball down towards the target.
Glasdon were pleased to support the club with a donation which has enabled them to purchase one of these specialist ramps.
It is hoped that the purchase of this new equipment will encourage more local people to join Blackpool Boccia Club and benefit from the social, leisure and sporting opportunities the club offers.