Leading designer and manufacturer, Glasdon, have launched a new range of stackable recycling bins and waste containers to help SMEs, organisations and communities sort waste efficiently and save space.
The compact design of the Nexus® Stack Recycling Bins, makes them ideal for using indoors where space may be limited, but the commitment to recycling and caring for the environment is great.
As recycling and waste management needs differ in the home and from one organisation to another, this new range of stackable bins offers all customers the total flexibility to create a waste sorting and recycling system they need.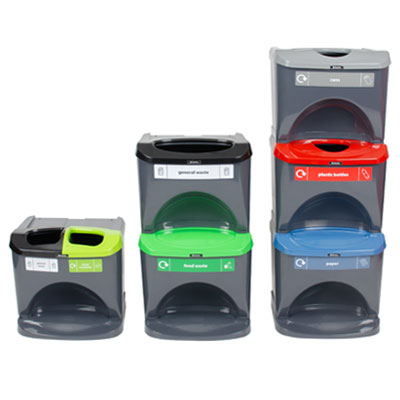 The idea is that in just a couple of easy steps the customer can create a Nexus Stack system for the number of waste streams and types of waste they need to sort, by choosing the aperture styles, colours and graphics that can help everyone improve their recycling.
Plus unlike other systems, each Nexus Stack unit contains a removable tilt bin which makes it quick and easy to empty and clean, without the need to dismantle any of the stacking unit at all.
Adrian Steen, Director, Glasdon International said:
It's our ultimate hope that this exciting new product range offers the flexibility and adaptability that can help more businesses, organisations and households improve their waste sorting and recycling habits and experience, so that not only the volume but the quality of recyclable waste also improves.
Create the ideal all-in-one waste sorting and recycling system
Each Nexus Stack recycling bin is available as either a 30 litre container for a single waste stream or as a duo container that's split into two 15 litre compartments for two separate waste streams.
The customer can choose between single, double and triple stack configurations, depending on how many waste streams they would like to sort and collect.
With a further choice of different coloured apertures with open, moulded e.g. with paper slot and closed (blanking) styles, the customer can then create a recycling system to suit their environment.
To complete their Nexus Stack system, colourful waste graphics are also included to help ensure the different compartments are clearly labelled to avoid any cross-contamination of waste.
Additional options are also available including a wall mounting kit which can be used to fix the stacking bins to the wall, above the floor.
As with many Glasdon products, the Nexus Stack recycling bin is itself environmentally friendly. Manufactured with high-quality, hardwearing Duratec™ material which contains 40% recycled content and is entirely recyclable, Nexus Stack recycling bins are adaptable for future needs and built to last.
For more information about the new Nexus Stack Recycling Bins or to discuss your requirements, don't hesitate to speak to us on Live Chat or contact our team today.