Personalised Modus™ Wheeled Bin Housing is introduced to the small village with a big passion for recycling.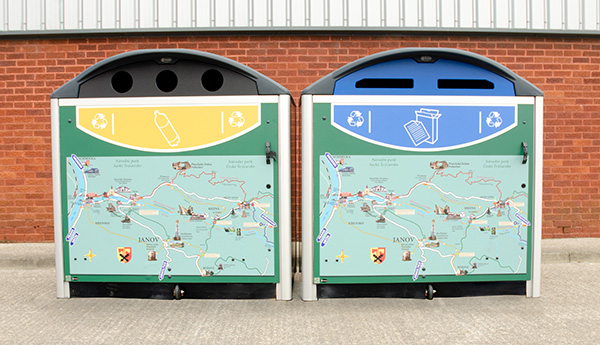 With 1280 litre capacity, aperture panels and personalised graphics, the Modus 1280L Housing for Mixed Recyclables is a large capacity storage system that increases recycling rates and minimises the need for multiple bins. The unit's design offers many opportunities for personalisation, which is perfect for messages and images that work to encourage recycling and improve correct waste disposal.
Welcome to Janov
Established in the 14th century, Janov, also referred to as Genoa, is a picturesque village with 344 inhabitants in the Děčín district, Czech Republic.* A member of the Czech Switzerland microregion, the village sits 321 meters above sea level.* Bordering the National Park of Czech Switzerland, and 3 kilometres from Hřensko, Janov's wild sandstone formations, deep ravines and large forests attract cyclists and hikers.*
Utilising custom vinyl wraps to highlight the village's picturesque scenery and useful maps of the area, their chosen Modus Housing provides a practical solution with an eye-catching design that will help boost usage and the efficiency of waste management in the town.
Built to Withstand
The Modus Housing Range offers a secure, weather-resistant option for waste management. With a Vandelex™ frame and Ecoboard™ panel core, the waste management system provides a durable alternative to large capacity and often unsightly outdoor waste containers. A stainless-steel hinge guarantees strength and security, whilst a hooded peak ensures added protection against the elements.
With base skirting and concealed door wheels to prevent the infiltration of pests, the Modus housing is suitable for outdoor placement outside areas such as apartment buildings, workplaces, universities, and colleges.
For areas with a lesser footfall, the Modus Housing is available with a 770-litre capacity, or in a Duo model which offers space to collect 2 different waste streams in one space-saving container. Both of these large capacity units are ideal for public spaces or outdoor commercial zones.
The Model Modus
With a variety of apertures and standard graphics, the Modus range covers all aspects of recycling and general waste and clearly highlights the function of each bin.
For a more customised and eye-catching aesthetic, the range can be personalised to include vinyl wraps, graphics, and logos. Vinyl wraps are the perfect accompaniment for the Modus range due to their large open surface area – plenty of room for artwork or detailed graphics. Make your Modus an attractive and efficient solution for your outdoor waste management programme.
As detailed on our Personalisation and branding page, personalising the Modus Housing Units can have many advantages and purposes, including highlighting branding, corporate colour schemes, maps, visitor information, campaign messaging and changeable poster kits.
To enquire about personalisation, contact us today.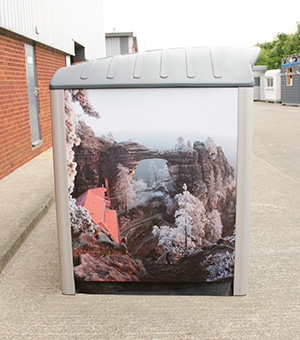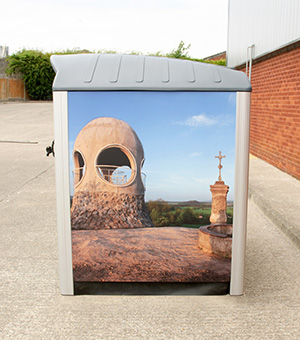 References
*https://www.janovuhrenska.cz/o-obci/d-1001/p1=55
*https://www.janovuhrenska.cz/z-historie-nasi-obce/d-1002/p1=1018
*https://www.janovuhrenska.cz/zakladni-informace-o-obci/d-1001/p1=1022
Friday, September 9, 2022