With over 33% of people across the globe owning at least one dog*, it's safe to say we're a world full of animal lovers! This amounts to a lot of daily walks, a great deal of barking and unavoidably, a large amount of dog waste.
When looking for the right dog poo bin, there are several key things you should consider to ensure you select the best solution for your environment. We've created this go-to-guide featuring key qualities you should look for when choosing your required dog waste bins.
1. Well-designed and hygienic container
When choosing a dog waste container, it is essential to select a bin which has been designed with maximum hygiene in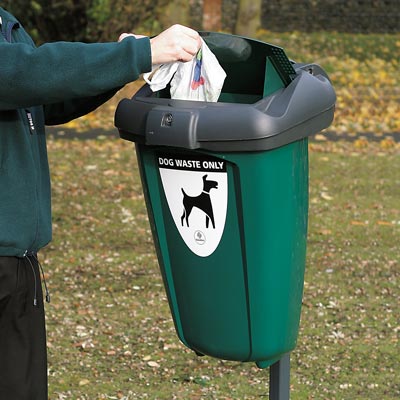 mind.
You should look for the following features:
Optimum Capacity: Dog waste can be heavy, so it is essential to select a strong container with an optimum capacity for increased operator ease when emptying.
Integrated Chute System: An integral chute will ensure that the waste finds its way directly into the container with ease, ensuring maximum hygiene and preventing the contents from overflowing. A chute will also help with waste segregation, by preventing any other litter from being deposited into the container.
Self-Returning Lid / Door-Opening Design: This will help to lock in odours whilst preventing rain water from pooling inside the bin. It will also keep out any vermin or insects to improve cleanliness for both the users and operators.
The Retriever 50™ Dog Waste Bin incorporates both a chute system and a door-opening design to provide a sanitary dog waste solution. Complete with either a sack retention system or an internal liner, this container combines optimum capacity with excellent strength, perfect for combatting dog waste in busy areas.
2. Robust construction from high-quality materials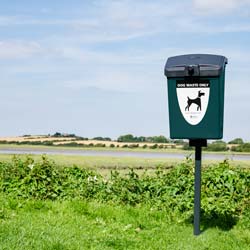 A durable, robust construction will ensure that your chosen dog waste bin has a long service-life and can withstand all weather conditions, to allow users to clean up after their canine friends all year round.
Glasdon dog waste containers are constructed from corrosion and weather resistant materials, including Durapol™ material and Duraplus™ material. All of our products including these pet waste bins undergo rigorous testing to ensure we supply only products of the highest quality.
Durapol material is also resistant to vandalism, meaning little maintenance will be required to keep your dog waste bins in excellent condition.
An internal liner can also improve the quality of your dog poo bin. Our Fido™ 25 Dog Waste Bin features a moulded polyethylene liner, which can be easily removed for cleaning and disinfecting. This helps to reinforce the cleanliness of the dog poo bin when emptying, making it an ideal sanitary solution.
A lid with a robust hinge and a vandal-resistant locking system is also ideal to provide optimum security and protection against unauthorised use, vandalism or theft.
3. Eye-catching graphics and colour options
Using recognisable signage and graphics can help approaching dog owners to distinguish between outdoor litter bins and dog waste bins.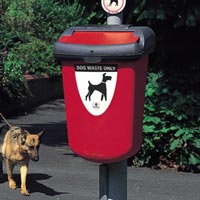 Our pet waste containers are supplied with an ultra-destruct 'dog waste' logo – a clearly recognisable, animal-friendly graphic to help inspire the correct management of waste.
You can also personalise Glasdon dog waste bins with your company or community logo, message or images. To find out more about how our personalisation service works, view our 5 step personalisation guide or contact us to receive a free-of-charge illustration.
Choose a modern and stylish dog waste bin that will stand out from its surroundings to increase visibility for approaching dog owners. An eye-catching green or bold red are great colour choices and are both available as standard options for all of our pet waste bins.
4. Variety of fixing options
The way your chosen dog waste bin is displayed is a key factor when encouraging animal owners to clean up after their pets. The container should be easy to spot, whether it's sited in a park, on the beach, or any other dog-friendly location, and should be appropriately fixed to the available surroundings.
We offer a variety of fixing options to accompany our dog waste bins. With a selection of post mounting fixings and options to mount your container to a wall, these dog poo bins can integrate well with any location.

For areas where these fixing options aren't suitable, ground fixings may also be available to allow your container to be securely sited to its environment.
The Glasdon Ground-Lock™ Fixing System is perfect for securing post-mounted litter bins and dog waste bins on soft or unsurfaced ground. The Ground-Lock fixing is quick and easy to install with no need for excavating or concreting, and features a unique 'remove and re-site' locking system, allowing the container to be easily removed and relocated if necessary.
5. Extra amenities to supplement your dog waste bin
Despite the law stating that pet owners must clean up after their dogs, many people may still take their four-legged friends for a walk without bringing any dog poop bags.
Provide passing dog owners with pet waste bins that feature a bag dispenser to allow them to scoop, bag and bin their animal's mess correctly in a dog poo bin.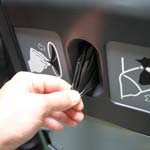 Our range features the dedicated, stand-alone Retriever City Sack Dispenser which can co-ordinate with existing dog waste bins.
Make sure your bag dispenser is fully equipped with enough bags for your environment. We can supply additional dog waste bags to ensure that your dispenser is never running empty!
It may also be useful to select containers with the option to add a dog lead hook to the pet waste bin. This will allow users to safely keep watch of their pets whilst attending to any dog mess, creating a safe, animal-friendly zone. The Metal Fido 50™ Dog Waste Bin features a built-in dog lead hook to accommodate your needs as required.
Once you have chosen your pet waste management solutions, don't forget to install them at regular intervals in high-traffic, dog-friendly areas to get the best use out of your selected dog waste bins.
For more information on the range of dog waste bins that we offer, please feel free to browse our website or contact us today!
Source:
*https://www.gfk.com/global-studies/global-studies-pet-ownership/