In 2019 the city of Lima in Peru will host one of the largest multi sporting events across the Americas, the Pan-American Games. Opening on the 26th July, 41 nations will compete in 36 different sporting events including swimming, fencing, baseball, gymnastics and weightlifting.
Due to the sheer size and scale of this event, we know that the athletes are not the only ones who will be feeling the pressure in the build up to the highly anticipated Pan-American Games 2019.
The Instituto Peruano del Deporte (IPD) is the governing body of sporting events in Peru. Located in the centre of Lima not far from the Estadio Nacional de Lima, one of the main stadiums that will host the games. The IPD offices will be working round the clock up until the deadline, meetings with clients, contractors, sponsors and athletes on a daily basis. Which can strain heavy on upkeep of the establishment.
Glasdon International Limited is proud to sell our Admiral open top litter bins, for the office courtyard of the Peruvian Sports Institute.
A tidy work place helps provide a safe work place. The IPD have acknowledged that workplace cleanliness stems from more than just an employee's desk.
This product is easy to install and easy to maintain. The Admiral's simple open top design makes this product the perfect contender for areas with high people traffic and everyday use.

The Instituto Peruano del Deporte chose to have a personalised graphic to match their logo, combined with stylish red decorative banding. This Admiral open top litter bin hosts red, white and cool grey which blends well with the exterior colours of the office building. For more information on our unique personalisation please visit our personalisation page or download our helpful pdf.
Design features of the Admiral™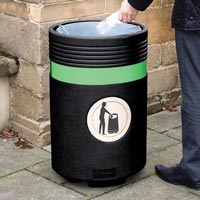 Made from robust Durapol with a zinc steel liner.
Personalisation options available for graphics, overall colour and decorative banding.
85 litre capacity with a 475mm open-top aperture.
Textured finish.
A choice of ground fixing options.
Ideal for high traffic locations such as, outdoor recreational areas, office courtyards, internal and external shopping centres.
Low maintenance needed.
Glasdon specialise in making products that can endure long life with little maintenance required. With the aim to combat litter and keep your outdoor communal areas clean and tidy for all to enjoy. If you would like to learn more about our indoor and outdoor litter bins please contact us today.
Call us today on +44 1253 600435 or email, or use our LiveChat facility.
Tuesday, February 20, 2018