Stackable recycling bins are a great solution for sorting waste indoors and ideal where floor or cupboard space may be limited. A stackable solution can also help you improve the quantity and quality of your recyclable waste too.
When deciding on the ideal set of stacking bins for the home, workplace or communal space, there are a few things you may want to consider.
So, with Nexus® Stack Recycling Bins in the spotlight, we've compiled some frequently asked questions, helpful tips and ideas to help you can create an efficient waste sorting system with stackable recycling bins.

1. Where Can I Use Stackable Recycling Bins?
Stackable recycling bins allow you to conveniently sort waste without taking up too much space. This makes them a popular choice when it comes to improving recycling in a wide variety of indoor settings.
Because they are compact and take up minimal floor space, stacking bins can stand up flush against a wall as a freestanding all-in-one recycling station. Alternatively, consider if they can be mounted to a wall off the ground. You may also wish to store them away inside a cupboard or unit or sit them neatly underneath a worktop or raised work surface.
2. How Many Stackable Recycling Bins Do I Need?
This really depends on how many different types of waste you would like to collect, and how much will be generated.
Standard ranges of stackable bins will generally offer two or three separate containers, featuring open or lidded apertures, for the collection of waste.
However, if you would like to sort a number of different waste streams effectively, avoiding cross-contamination of waste, then the Nexus Stack range offers single, double and triple stack configurations with the option to split compartments and use dedicated apertures for the collection of up to 6 waste streams.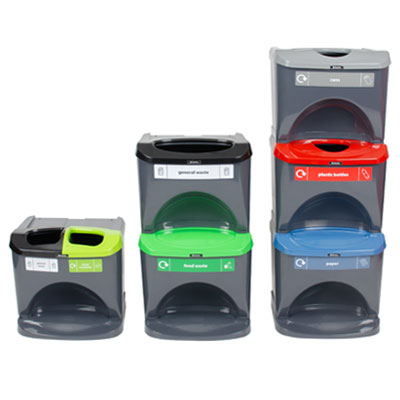 Each stackable recycling container has a 30-litre capacity to collect a single waste stream or it can be split into two with a special Duo divider and Duo apertures to collect two waste streams, separately, inside one container.
30-litre bins are manageable in all environments, both in terms of collecting a good amount of waste before needing to empty them into the main external bins and in terms of manual operation.
This makes a stackable solution like the Nexus Stack really flexible and adaptable to your needs. By combining the single and duo containers, you can keep multiple types of waste totally separate in one compact system - with just one, two or three stacking bins!
For safety, we recommend that any set should not be more than 3 stackable containers high and that the heaviest waste stream should always be placed on the bottom. We also recommend that freestanding stacks of 2 or 3 bins should be fixed behind to a solid wall to increase stability and prevent toppling. Wall fixings are also supplied as standard with all configurations of the Nexus Stack.
Take a look below for ideas on how you might use stackable recycling bins in the office, learning environment or communal/public spaces.
1a. Recycling in the Office.
In a small office environment you may need to collect just one main source of recyclable waste e.g. paper or confidential waste.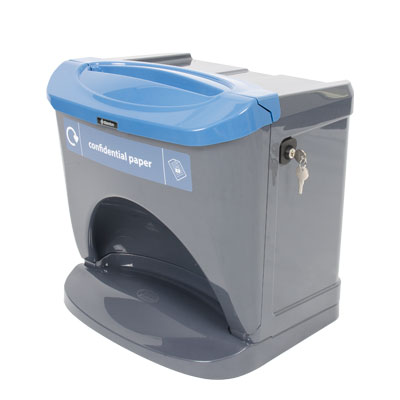 In this case a dedicated, compact solution such as a single 30 litre Nexus Stack recycling bin with a slotted paper aperture and lock (for confidential waste), could be placed in a visible, accessible location e.g. next to a printer or on top of a an office cabinet at standard waist height.
In larger open plan offices or other areas of an organisation, multiple types of recyclable and non-recyclable waste may need segregating as part of a wider waste management programme.
Typically collecting paper waste will still be relevant, but companies may also need to segregate plastic drinks bottles and aluminium cans, food waste and general waste too.
This is where a combination of stackable single and duo recycling containers, in a double or triple stack configuration can save space and elevate the volume of sorted waste within the organisation.
1b. Recycling in an Indoor Public Space or Communal Setting.
Just as recycling needs differ from households to businesses, indoor public spaces, learning environments and communal facilities will also generate different types of recyclable and general, non-recyclable waste. Often the volume of different types of waste in these settings may not be as clear.
In this case, a set of 3 stackable recycling bins split into separate compartments to collect many different waste streams can really help boost the visibility of a scheme and segregation of the recyclable content.
The triple Nexus Stack 90 system offers the combination of 3 duo containers with a choice of specially moulded duo apertures and waste graphics, to keep 6 different waste streams totally separate from each other.
3. What are the Apertures on a Bin and Which Should I Choose?
The aperture on a waste bin or recycling bin refers to the opening on the top or side of the body of the bin, where the waste items are deposited. Some apertures are open, some are integrated with a swing, flip or push up/down lid.
Open apertures can also be designed specifically for the waste type being deposited. Why? Specially moulded apertures are really affective in preventing the wrong type of waste from ending up in the wrong bin, which unless prevented can cause cross-contamination and the waste cannot be recycled. An example of this is where paper becomes mixed in with different types of food waste.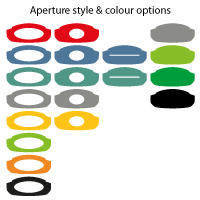 So to help prevent this cross-contamination of waste and to improve the quality of recyclable waste, recycling bins will often feature apertures with moulded openings such as smaller round holes for bottles and cans and slots for paper waste and so on to ensure the waste item is deposited into the correct waste stream and segregated from other types of waste.
With the Nexus Stack range of stackable recycling bins you can improve the quality of your recyclable waste by choosing the specially moulded apertures for the waste streams you need to sort.
4. Should I Use Labels for Each Compartment?
Labelling compartments on a recycling bins is a really helpful way to ensure waste items or deposited into the correct waste stream. Again, this helps to prevent cross-contamination which occurs when recyclable waste is mingled together with non-recyclable waste.
Adding visual graphics and text labels is good practice in businesses and organisations where there may be many different bins or busy communal and shared spaces with high usage.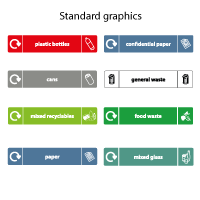 The aperture colour and style of moulded opening also plays a big part, as standardised recycling colours are recognisable and associated with a waste stream e.g. blue for paper, black for general waste. Therefore, you may not feel there is need to add labels or graphics or indeed want to add your own style of graphics.
With the Nexus Stack range you can choose from the selection of standardised recycling graphics or, choose not to add graphics or liaise with our personalisation team to really give your stackable recycling bins a customised feel that's right for your room décor or environment.
5. Can I Put My Stackable Bins in Any Order?
You can configure your stacking bins in any order that you feel will help create an improved recycling process. We recommend placing the heaviest waste stream in the bottom stacking bin. So glass, food waste or paper (particularly in office settings), would be at the bottom of the stack.
This is to avoid toppling. However, we also recommend that freestanding stacks are secured to a wall for additional stability. Wall fixings are supplied with the Nexus Stack as standard.
6. Do I Need to Dismantle the Stacking Bins Every Time I want to Empty Them?
Some sets of double and triple stacked bins do require the user to dismantle the stack in order to empty and clean the recycling containers.
Each Nexus Stack unit features a removable 30 litre tilt bin with front and rear handles, so the entire stack stays intact and only the bin compartment itself needs to be taken out for quick and easy emptying and cleaning before being placed back into the body of the unit.
7. Do I Need a Separate Liner or Sack for a Stackable Bin?
Ideally your choice of stacking bin will include a built-in liner and depending on the type of waste you are sorting and how your waste is collected you may wish to use sacks.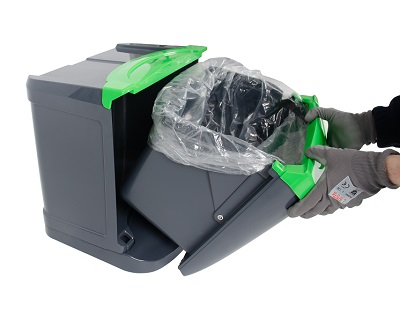 Each Nexus Stack features a built-in sack retention system which is universally compatible with standard sack sizes. It offers quick and easy emptying and sack replacement, while the sack lock feature secures the sack to minimise spills.
However, Nexus Stack also offers the choice of using with or without sacks as the all-in-one tilt bin ensures no leaks and its seamless internal finish is easy to clean.
If you would like more information or advice please don't hesitate to speak to one of our team via Live Chat on this website or by contact us directly. Alternatively browse our range of stackable recycling bins.