How can you increase participation in communal recycling programmes and decrease the cross-contamination of waste?
We've compiled this quick guide to help you and your residents improve communal recycling rates:
1. Make Space to Increase Recycling
Providing communal waste storage areas can help improve waste sorting.
According to WRAP, a barrier which stops people living in apartments from recycling easily, is limited storage space and the ease with which materials can be transported to a collection point. *
To help overcome this issue provide a designated area for waste and collection, with the appropriate size and number of colour-coded containers.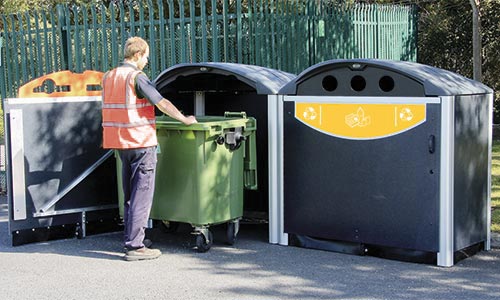 Considerations for collecting communal waste:
Make sorting spaces accessible and practical.
Check waste containers are not sited in obstructive locations
Ensure waste rooms and waste containers are inaccessible to rodents or insects
2. Minimise the Risk of Cross-Contamination
Offering distinctly labelled collection containers for recyclable and non-recyclable waste can help minimise the risk of cross-contamination.
We recommend:
Grey or Black housings to store general waste bins
Bin housings with brightly coloured, moulded apertures for storing recycling bins
These colours reflect the wheeled bin lid colours, so users and refuse collectors can instantly recognise the intended waste stream of each container.
The Visage™ Screen Systems feature large colour-coded graphics to depict the intended waste streams of each container. These colourful graphics help to encourage correct waste disposal and prevent cross-contamination.
Modus™ Bin Housings are also ideal for creating communal recycling stations. The specially moulded apertures on the Modus recycling bin housing prevent rubbish bags from being deposited in the container to further minimise cross-contamination.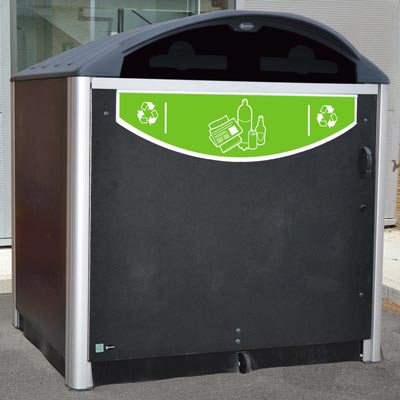 3. Maintain Hygiene Levels
Maintain outstanding hygiene levels to show current and future residents that you care.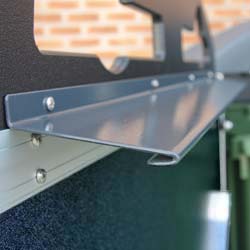 The Visage screen systems and Modus bin housings hygienically conceal unsightly waste thanks to innovative features including:
A base skirting which keeps fallen waste contained and prevents rodents entering the bin contents
The waste deposit chute on the Modus bin housing guides waste into the wheeled container
Door-stay feature keeps the door open for ease and speed of access to the wheeled container
Easy to clean, low-maintenance design
4. Increase Security and Safety
Provide residents with peace of mind, by securely covering or housing four-wheeled waste containers to reduce the risk of theft, arson or other types of vandalism.
Increase security by:
Siting communal waste bins in a secure location accessible for residents, property managers and refuse collectors only
Concealing wheeled containers in secure, lockable bin housings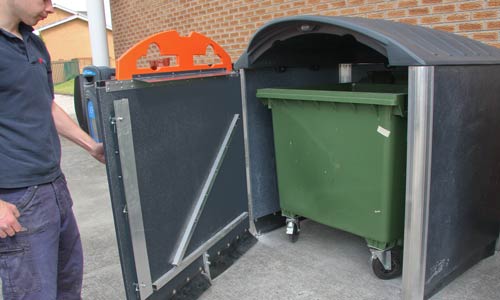 Fire Safety
Fire safety can often be a concern for communal wheeled bins.
If fire safety is a concern for your site, we recommend the Modus bin housing with the Glasdon Firesafe™ optional extra. This automatic fire suppression device can be fitted inside the hood of the container. If a fire breaks out inside the bin, this device is automatically activated.
The following tips can prevent bins from overflowing and help minimise the risk of fire:
Schedule frequent collection dates with refuse collectors
Provide sufficiently-sized bins
Politely remind residents of collection days by personalising bins with bin collection information
Designed from durable materials, the Modus and Visage wheeled bin housings also ensure a long-service life and can withstand vehicular impact.
The Vandalex® frame also provides exceptional strength and weather resistance.
5. Personalise your Bin Housing
Fixing posters above or directly onto the bins is the most effective way to remind residents of sorting instructions.
Thanks to their fully customisable design, you can add personalised sorting instructions directly to the Modus and Visage bin housings.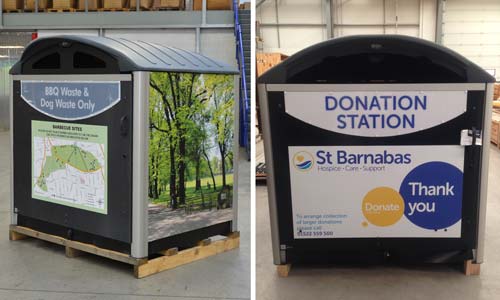 You could even add your organisation's logo, recycling message or other personalised graphics to create an attractive, appealing recycling station.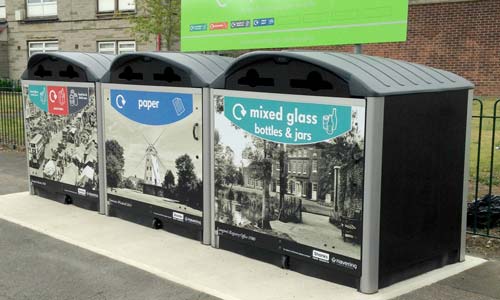 To find out more about our Wheelie Bin Housings or other large capacity waste management solutions – contact us today or speak to one of our friendly advisors on LiveChat now!
Source:
* http://www.wrap.org.uk/content/recycling-collections-flats-methods-improving-performance